Camelot Cleaners
click to email
Services
Dry Cleaning
Your clothes are specially handled from start to finish. We pre-inspect each garment for spots and, if necessary, protect or remove any delicate trim. Garments are cleaned using the most advanced methods including the new SystemK4. This is the newest and most effective eco-friendly dry cleaning system in the industry and Camelot is one of the first cleaners in the country to feature it. After cleaning, your garments are hand-finished and inspected twice before we package and return them to you. As a courtesy to our customers, we perform minor alterations free of charge.
Shirt Laundry
We pride ourselves on producing an impeccable laundered shirt. You can choose from light, medium, and heavy starch - or no starch at all. Tell us whether you like your shirts folded or on hangers. Your preferences will be stored in our computer system, so we can be sure to launder your shirts the way you want - every single time. We individually inspect each shirt, replace cracked or missing buttons, and make certain that each item is perfectly pressed. Camelot Cleaners will ensure that your shirts keep a sharp professional edge.
Wedding Gowns
Our wedding gown specialists have over 20 years of experience cleaning, pressing, and preserving these delicate items. Your gown will be pre-inspected and specially treated for any spots and soil. Additionally, we give extra care to the trim and beadwork that beautifully highlights your gown. Then, we use acid-free tissue to surround the dress before preserving it in a premium, acid-free box. And, don't forget...Camelot Cleaners will press your gown before your big day.
Household Items
We extend the same incredible care to your household items that we do to your garments. Let us clean your down comforter for those cold Nebraska nights, or handle that expensive linen tablecloth with the red wine stain. In addition, we have state-of-the-art equipment for cleaning and pressing your pleated draperies.
Sewing and Alterations
As long as we're cleaning your garments, why not let us make your alterations as well. Our skilled seamstresses can do anything from replacing broken zippers to altering the length of a garment.
Leather and Suede
Because your leather garments can be a major investment, let Camelot Cleaners make sure they last for as long as possible. We can handle most leather and suede garments, including UGG Boots. Our service will keep your expensive leather items looking like new.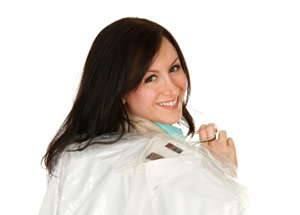 Customer Testimonial:
"Since moving to Omaha we've tried several dry cleaners with hit and miss results. Camelot Cleaners is the only cleaners that we've been truly happy with. We won't go anywhere else."
~ Amy M.